Most of us use comparison quotes now, its easy but should you trust the quotes they give you? We obtained quotes from the three most well knownAi??comparison sites.Ai??We looked at cover for a 18 year old male with no no claims discount on a 2009 1.2 Ford Fiesta and added a 63 year old parent as a named driver.
Comparethemarket.com
Look at the screenshot below, the top quote from Hastings (A?1531.49) clearly shows a total excess of A?345, A?95 Compulsory and A?250 Voluntary.Ai??This is with a telematics box fitted and was nearly half the cost of a quote from Churchil with no box (A?3063.81 with A?500 excess). As you can see we tried to get a quote with A?800 excess but the comparethemarket.com site didnt appear to recognise it.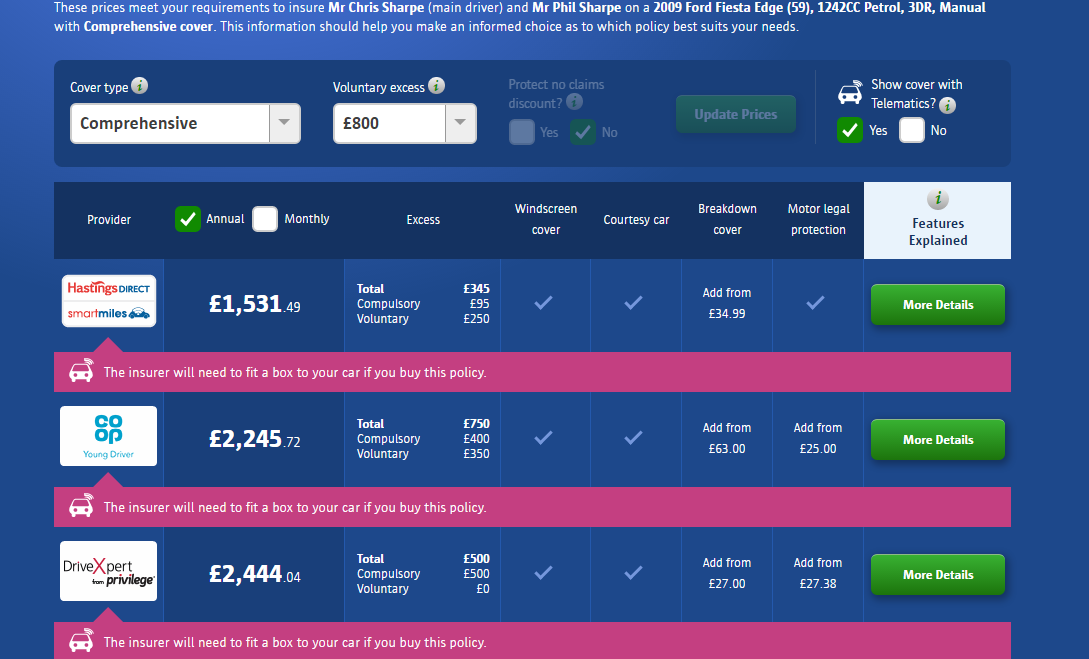 Click for more details and it all looks good, total excess again clearly show as A?345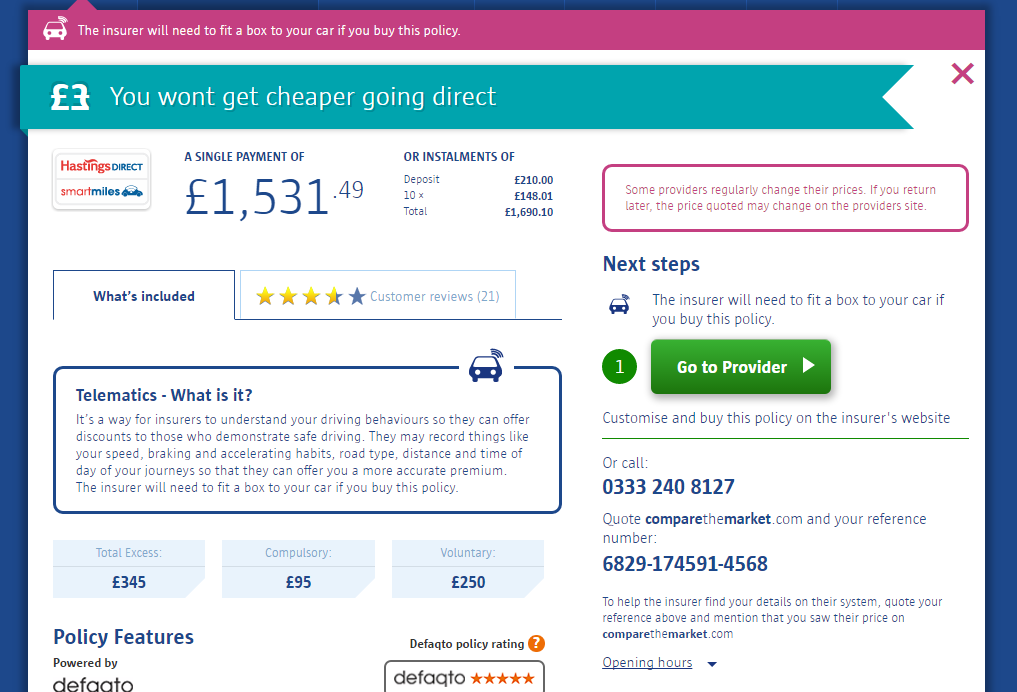 I'm happy with that so lets go to the Provider and purchase the cover.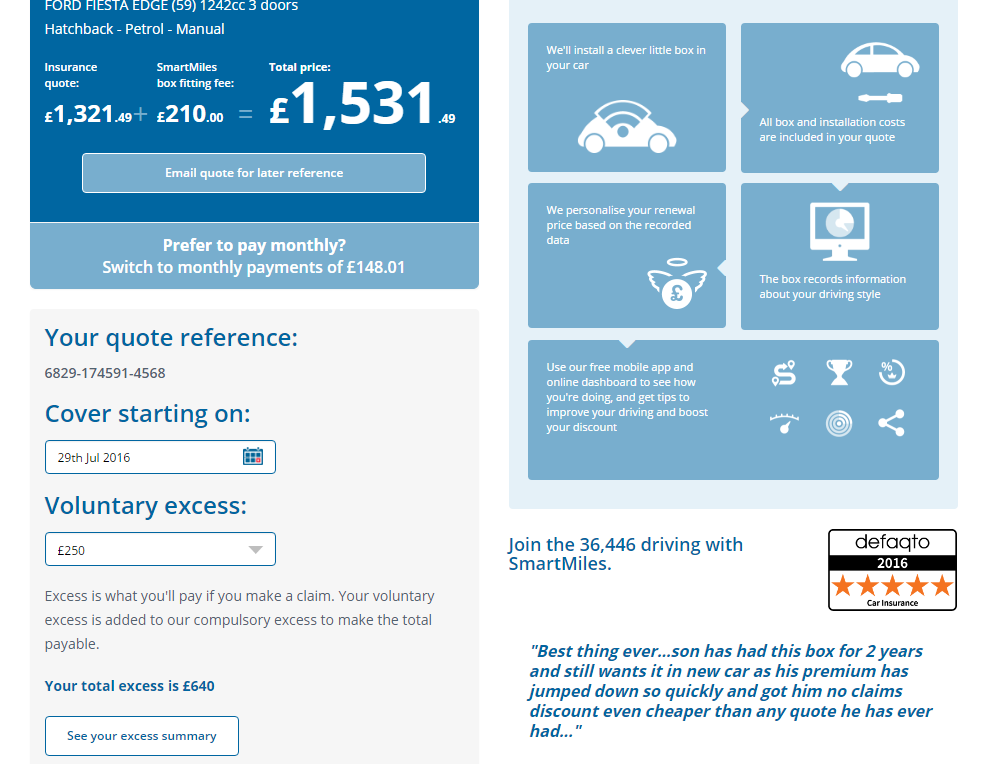 Wait a minute what's this, the excess has jumped up to A?640!Ai??Click on the excess summary and it states that there is an additional A?295 "younger driver excess" on top of the compulsory A?95 and Voluntary A?250 excess.
Comparethemarket.com
Cheapest quote is from Insurethe box at A?1934.75 with A?550 excess on the comparethemarket.com page.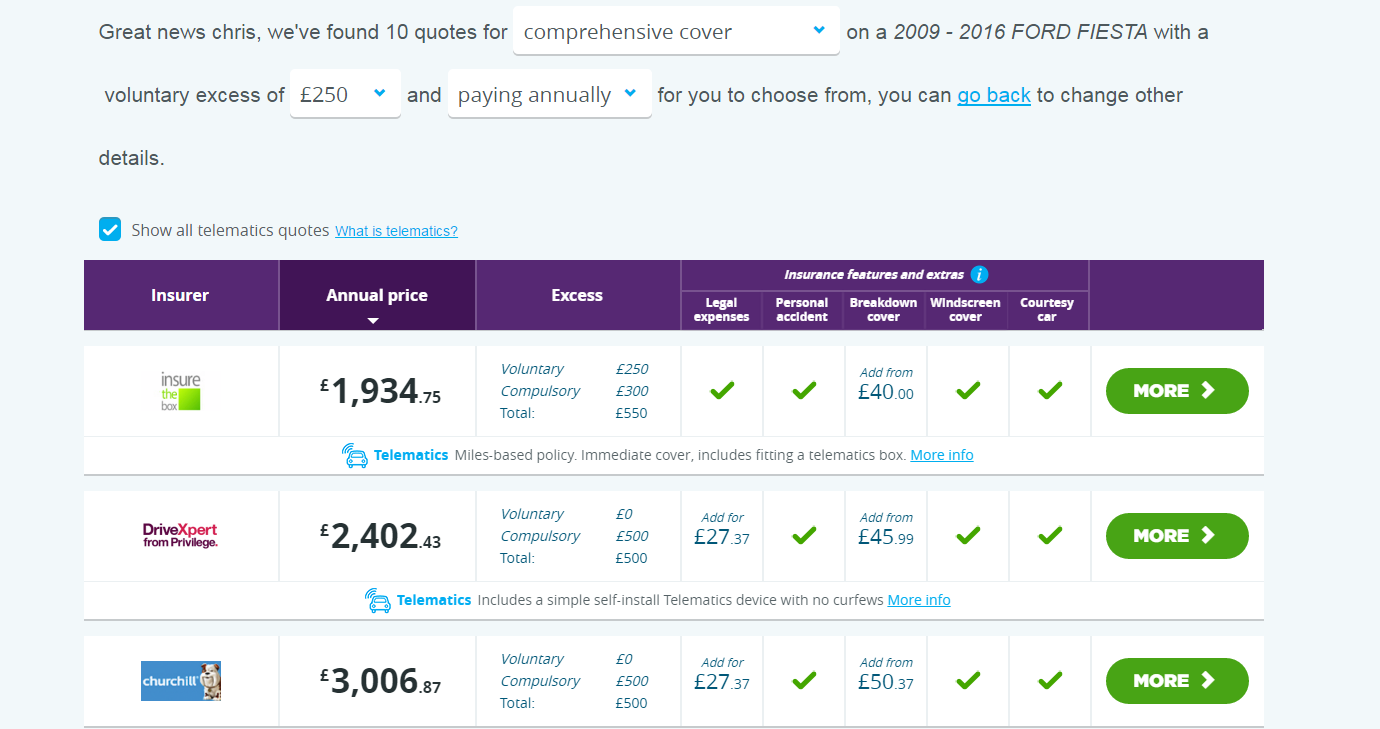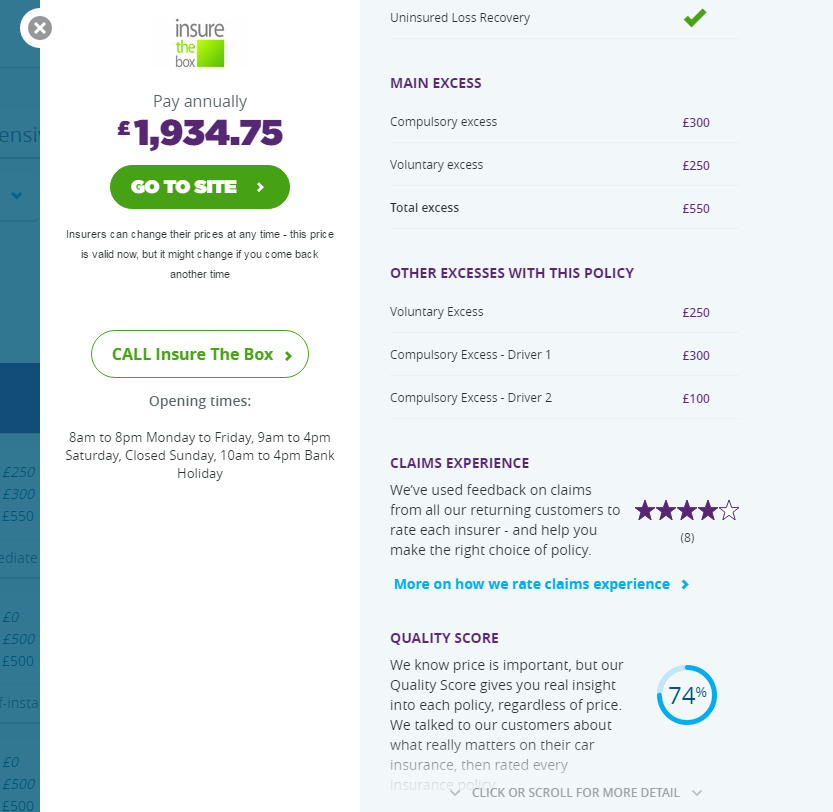 Click on the quote and it explains that the total excess is A?550 for driver 1 and A?350 for driver 2.
Gocompare.com
Hastings Direct Smartmiles scheme comes out as the cheapest but again it has the same problem as on the comparethemarket.com site. It shows the excess to be A?345 on Ai??gocompare.comAi??but when you go to Hastings site it jumps to A?640, thats a little misleading and confusing.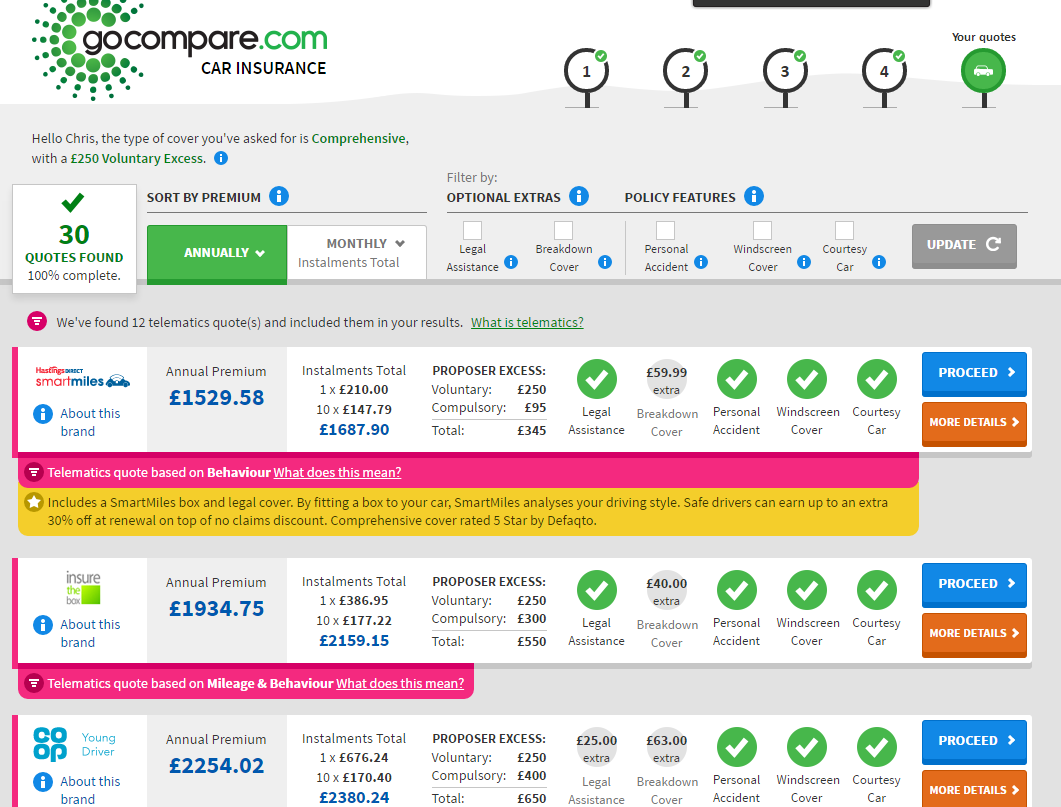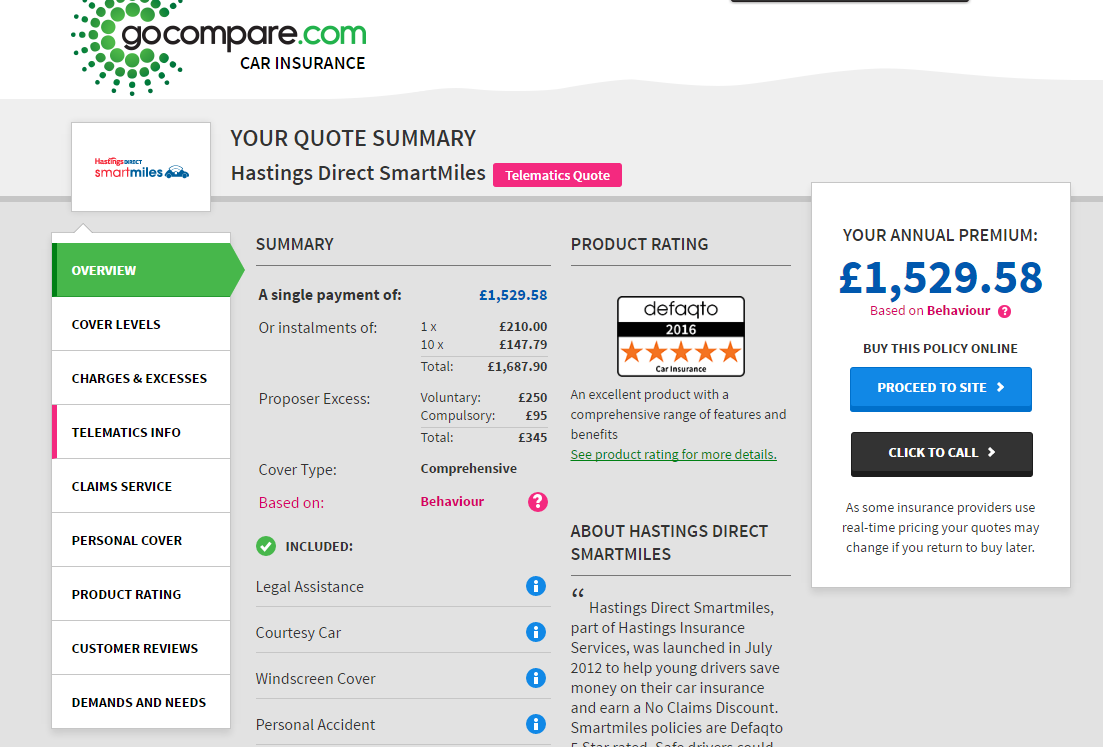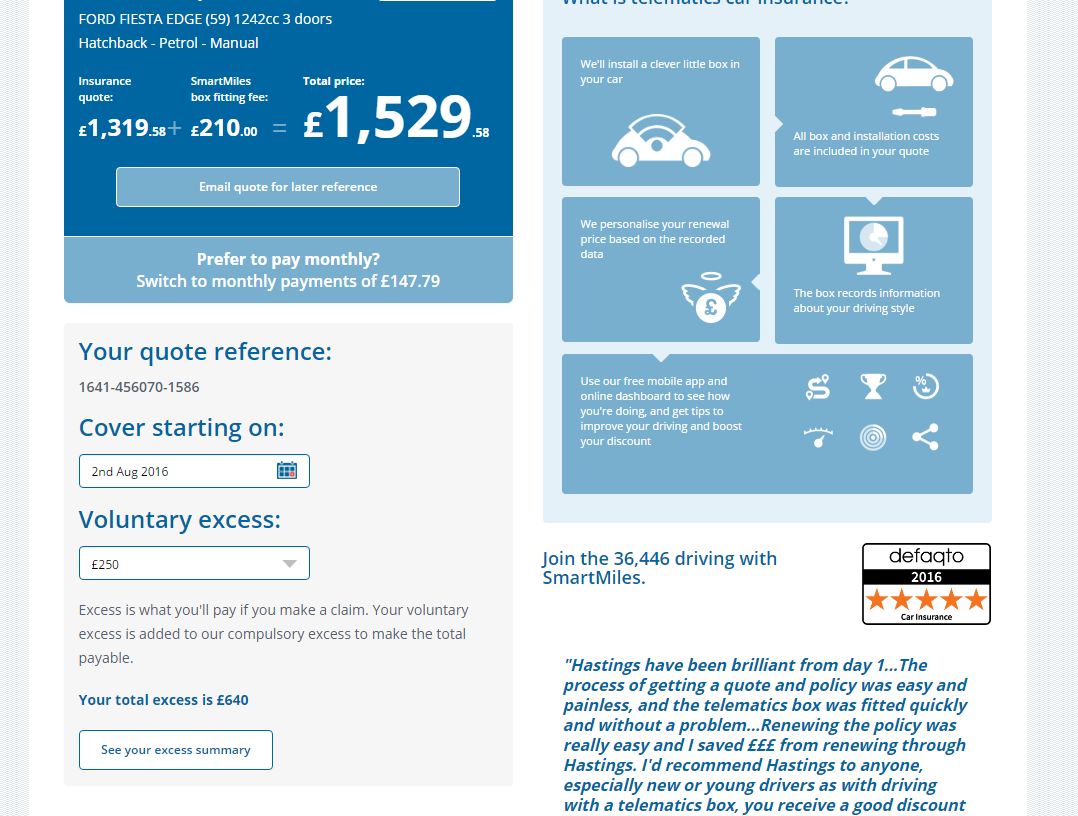 Why its worth shopping around
This shows how the comparison sites work,Ai??they can only show the information they find/are provided from the insurers themselves so its not necessarily their fault when there is a difference when you click through to the insurer. That's why you should always check double check the details you enter on the insurers page and your documents when they arrive. Dont forget not all of the insurers provide quotes to the comparison sites. Ai??As a young driver having a telematics box is a no brainer, the cost of insurance with one of these is practically half compared to not having one.